You can bring colour and texture to virtually any glass window, door, or room divider. There are multiple colours to choose from: red, yellow, green, blue, bronze, white black, matte frost. Combine any or all to splash virtually any colour; diffuse, focus, or block light completely.

There are dozens of patterns to create enriching visuals; overlap multiple patterns to create custom effects. You can customize space with a corporate logo or signage.

RESIDENTIAL SERVICES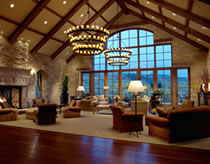 With your home, Our film that will make your windows more efficient and safer without changing your view or decreasing ample amounts of light. Our film can give you the option of having daytime privacy and slow down fading of your fabrics, furnishings and carpeting by stopping over 95% of the sun's damaging ultraviolet rays.
With a wide choice of films we'll help you decide on the film that's right for you, or customize our product to meet your needs.
COMMERCIAL SERVICES
Spending hours in an commercial office environment with large windows and not being able to see out because the blinds are shut is often the case. Our window films blocks 99% of damaging UV rays that fade interiors. It also deflects harsh uncomfortable glare, thereby improving comfort for office occupants. Our window film also provides a level of protection from broken glass in the event of a disaster.

More than 200 window films are available for professional retrofit on glass surfaces. These window films perform the following functions:
Increase safety
Reduce solar heat gain
Cut glare
Improve security
Provide privacy
Insulate
Improve building aesthetics
Create decorative glass
Protect surfaces from graffiti
Improve overall comfort